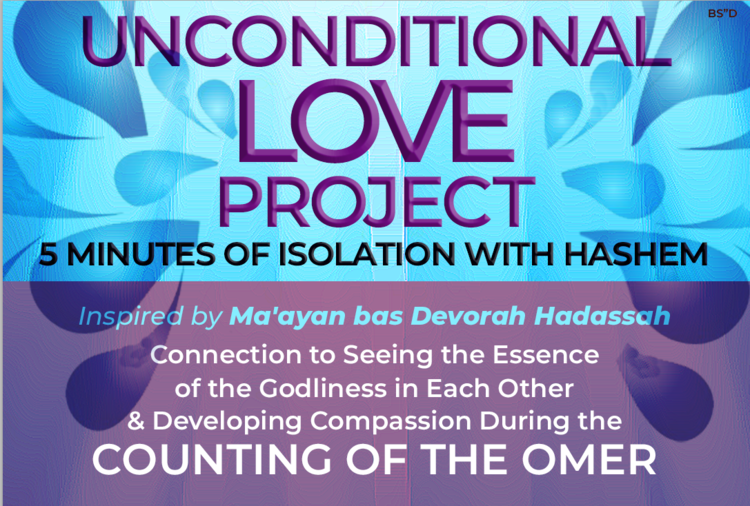 BS"D
Unconditional Love Project
5 MINUTES OF ISOLATION WITH HASHEM

Connection to Seeing the Essence of the Godliness in Each Other & Developing Compassion
as we work toward directing our egos to yearn and build greater vessels that can hold and reflect the light of the Av ha Rachamon our Creator
---
Join the ULP The Unconditional Love Project Whatsapp Group
---
Inspired by
Ma'ayan bas Devorah Hadassah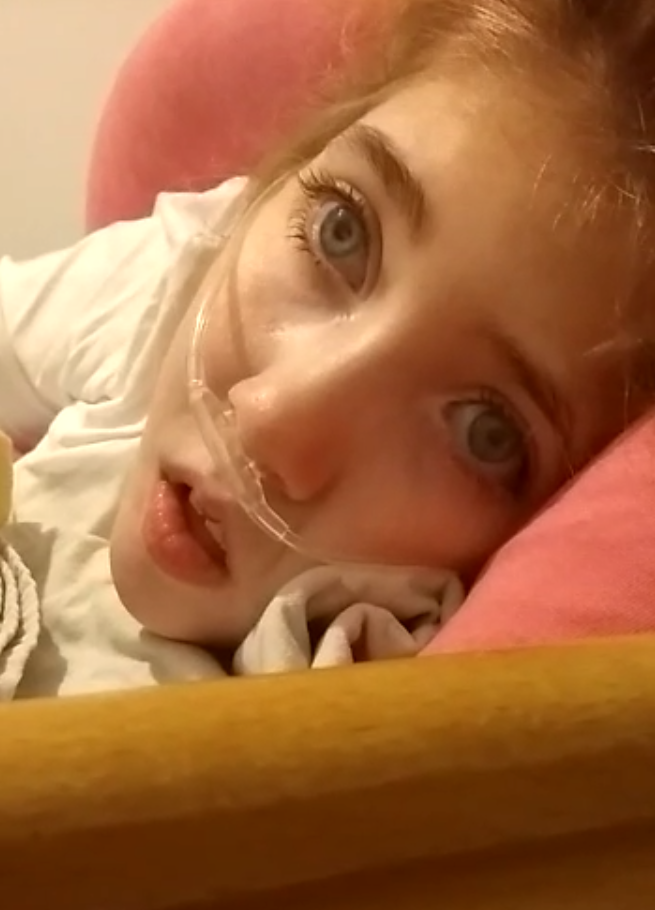 Maayan is excitedly approaching her bat mitzva and in spite of currently suffering from a rare neurological disease she showers Emuna and light into the world✨
❣5 MINUTES – ACHDUS for Am Yisrael
❣5 MINUTES – HEALING & CONNECTION
The Unconditional Love Project
Inspired by Ma'ayan bas Devorah Hadassah. Maayan is excitedly approaching her bat mitzva and despite currently suffering from a rare neurological disease she showers emuna and light to all b'chasdeiH'*
---
? TALK OUT YOUR FEELINGS specifically about this relationship and share these thoughts vulnerably with Hashem (why you are conflicted with sticking with this relationship that maybe doesn't seem to be what you signed up for)
? FOCUS ON THE PERSON'S POSITIVE TRAITS (and ask H' to allow you to remember and focus on them)
? DAVEN for their growth, success, self compassion, and ability to empathize
? SEE THE POSITIVE CHARACTERISTICS (ask H' to allow you in His mercy to see them in relation to your current interactions)
? PUT AN END TO BEING THE VICTIM (ask H' to help you see the situation from the other person's perspective and put an end to the blame game)
? CONNECT WITH COMPASSION / RACHAMIM on yourself and on others; and in turn accept Hashem's compassion and guidance as you ask H' to bless you both together to have peace light and love and to find chein in each other's eyes…?????
Sim Shalom Tova Uvracha
IY"H you will see miracles as you do this. L Shem Shamayim✨✨
-Devorah Hadassah Liebermann
---
Join the ULP The Unconditional Love Project Whatsapp Group
Join the "munah Upgrades with Maayan Whatsapp group
---
Donate to help Maayan.
---
ULP MEDITATIONS
DEVORAH HADASSA LIEBERMANN
גם זו לטובה Meditation
Binding our selves to CHESED: Finding the good & claiming it with our mouth.
Based on Tomer Devora
Nachum Ish Gam Zu would always find the good and claim it with his mouth, lessening /sweetening the severity of dinim.

When we complain… these thoughts, Chas VShalom bring more dinim. This meditation helps to reflect upon the positive qualities on the person in your life that presents a challenging relationship.Gam Zu LTova MeditationDevorah Hadassa Liebermann
MEDITATION
Quiet your mind
And make space for
Gratitude

Ask Hashem to bring
His Chesed
Into your current relationships
Because it is only Hashem
This is where the humility comes in

Access Anava
Remind yourself
It is Rak Hashem
Only Hashem

In your minds eye…
Image
you are saying to Hashem:
I know it's only you
that would allow me to be successful in this relationship
You are the Av haRachaman.

Thank you for my bechira/choice.
In this moment
Please
strengthen me
to go forward
And to bring CHESED
Into this relationship

Hashem
I ask you
That when the moment arises
When I want to
Blame
Complain,
Comment negatively …

That I will catch myself
Before the words come out of my mouth
I will stop myself
With my bechira
And choose to bring CHESED
Into the world
Into my life
instead of dinim.
Revealing the Shechina in exile

Because I know that severity
And difficulty
Is in the relationship
As a life lesson / tikun

I trust You Hashem
With the challenges
you are giving me
To connect me with the ability
LShem shamayim
to see the good

Borei Olam
I see that this is a waging war
The Yetzer hara only wants me to see the bad
And point a finger
And make a war

Yes
This is his plan
To give me all the reasons
To adamantly believe
that I am right
And THAT person is doing it the WRONG way.
And should be TOLD SO!

Wait a minute!!!
Nachum Ish Gam Zu
BROUGHT CHESED INTO HIS LIFE
He SWEETENED the dinim
By saying
Even this is for the good
Gam Zu ltovah

Hashem
Please
In your mercy
Will you help me connect
With this tzadik and this teaching …

Help me to guard my mouth
To catch myself
Help me to
REALLY
COME TO BELIEVE

Show me
I trust you.

May we be zoche to SWEETEN the dinim in our relationships.
And bring CHESED into our lives. May we connect to gratitude.
May we be patient in this process
May we thank you Hashem
FOR ANOTHER DAY OF LIFE

-Devorah Hadassa Liebermann